Every year, National Nurses Week takes place from May 6th to May 12th, recognizing the invaluable contributions of nurses to their patients and communities. However, starting in 2020, the American Nurses Association (ANA) expanded this celebration to encompass the entire month of May, allowing for a more comprehensive recognition of nurses' dedication and commitment. Throughout Nurses Month, each week carries a specific theme, including Self Care, Recognition, Professional Development, and Community Engagement. This blog post explores the history and purpose of Nurses Month and provides ways to celebrate and honor nurses this year.
History and Significance of Nurses Week
Established in 1974, National Nurses Week was initially designed to conclude on May 12th, the birthday of Florence Nightingale, widely regarded as the pioneer of modern nursing. Florence Nightingale's selfless service and transformative contributions to healthcare make her an iconic figure in the nursing profession. The week-long celebration is a tribute to her remarkable legacy and aims to raise awareness about the critical role nurses play in patient care.
Expansion to Nurses Month
In recent years, the American Nurses Association (ANA) recognized the need for an extended period of appreciation for nurses, given the immense challenges they face and their tireless dedication to patient well-being. In 2020, ANA expanded the celebration from one week to one month, allowing for more comprehensive recognition and appreciation of the nursing profession.
Weekly Themes of Nurses Month
The month-long celebration of nurses includes weekly themes to spotlight various aspects of nursing. Each theme provides an opportunity to focus on different dimensions of nurses' roles and responsibilities:
Self Care (May 1-7): This week emphasizes the importance of nurses' mental and physical well-being. It encourages self-care practices and highlights the significance of maintaining a healthy work-life balance.
Recognition (May 8-14): The focus of this week is to honor nurses who demonstrate exceptional leadership, excellence, and innovation in their communities. It is an opportunity to express gratitude and acknowledge the extraordinary efforts of nurses in providing quality care.
Professional Development (May 15-21): This week aims to provide nurses with resources and opportunities for professional growth. It underscores the importance of lifelong learning and encourages nurses to enhance their knowledge and skills.
Community Engagement (May 22-31): The final week of Nurses Month is dedicated to raising awareness about the roles and contributions of nurses within communities. It emphasizes advocacy, education, and fostering a deeper understanding of the vital work nurses perform.
Celebrating and Honoring Nurses
During Nurses Month, there are several meaningful ways to celebrate and honor the remarkable contributions of nurses:
Express gratitude: Take the time to personally thank nurses for their dedication and compassionate care. A simple note, card, or message of appreciation can go a long way in brightening their day.
Social media shout outs: Utilize social media platforms to share stories and experiences that highlight the invaluable impact of nurses. Use hashtags like #NursesMonth and #ThankANurse to amplify the recognition.
Support professional growth: Encourage nurses to pursue professional development opportunities by providing access to workshops, conferences, or online courses. Consider offering scholarships or funding for continuing education programs.
Volunteer or donate: Participate in community initiatives or fundraising events that support nursing organizations or healthcare institutions. Donations of time, resources, or funds can make a significant difference in improving the working conditions for nurses.
Advocate for nurses: Raise awareness about the challenges nurses face and advocate for policy changes that positively impact the nursing profession. Engage in conversations, write to elected representatives, or join local healthcare committees to actively support nurses.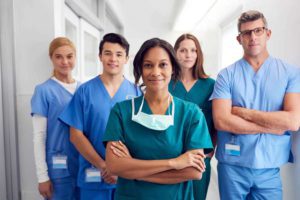 In conclusion, Nurses Month is a time to recognize and honor the unwavering commitment and selfless dedication of nurses. Expanding the celebration from a week to a month allows for a more comprehensive appreciation of their invaluable contributions to healthcare. By embracing the weekly themes of self-care, recognition, professional development, and community engagement, we can demonstrate our support and gratitude for nurses' tireless efforts. Whether through expressions of gratitude, social media shout outs, supporting professional growth, volunteering, or advocating for nursing, each action contributes to creating a culture of appreciation for nurses. Join Cascade Health Services in celebrating, honoring, and uplifting the remarkable nurses who serve as the backbone of our healthcare system.