Picture this: It's 5pm, and your facility has received notification that one of your ICU nurses is sick and has canceled their shift that starts in less than two hours. You begin to panic as you realize how daunting the challenge of finding a replacement nurse on such short notice is. You begin frantically calling all your staff nurses, hoping to find someone to come in and cover the shift. Each call inevitably ends in disappointment as all other staff express they are unavailable due to prior commitments or personal obligations. Without a reliable Per Diem Nurse Staffing Agency solution in place, the chances of filling that shift are increasingly slim.
This is where a reputable per diem nurse staffing agency can come into play. With just one call or email to a staffing manager, your staffing agency shares the burden of finding a qualified replacement for your facility. They have the capability to instantly reach out to dozens or even hundreds of nurses in your area, matching their qualifications, credentials, immunizations, and certifications to the specific needs of your unit.
More often than not, a reliable per diem nurse staffing agency will provide you with the staff you need to ensure adequate staffing levels, exceptional patient care, and alleviate stress and burnout among your own staff.
So, what exactly is per diem staffing? Derived from the Latin phrase meaning "for each day," per diem staffing applies to healthcare professionals who work on an as-needed basis. PRN nurses work as much as they are needed and as much as they are available. Some PRN staff work full-time hours, while others might only work one or two shifts per week.
Cascade Health Services is a leading provider of PRN healthcare staff with over 35 years of experience. Cascade is trusted by hospitals, nursing homes, LTACHs, rehab facilities, and more. As a Joint Commission Certified agency, Cascade employs thousands of nurses, CNAs, and other healthcare staff across multiple states, including Kansas, Missouri, Oklahoma, Texas, Colorado, and Florida. One of the significant advantages of partnering with Cascade is that their employees are W2 employees, meaning that the agency handles all taxes, workers' compensation, and liability insurance. Cascade also invests considerable time and resources in recruiting, hiring, onboarding, and employing their staff.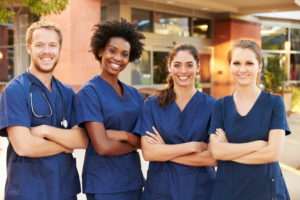 7 Benefits of Partnering with a Per Diem Nurse Staffing Agency
Partnering with a PRN nurse staffing agency like Cascade offers several benefits:
Immediate Access to Qualified Staff: When you have an urgent staffing need, a PRN agency can quickly connect you with qualified healthcare professionals who are ready to step in and provide care.
Extensive Network: PRN staffing agencies have access to a vast network of healthcare professionals, ensuring that you have a wide pool of potential candidates to choose from.
Flexibility and Scalability: Whether you need coverage for a single shift, a short-term assignment, or long-term staffing solutions, PRN agencies can accommodate your changing needs, providing the right level of staffing at all times.
Cost-Effectiveness: Partnering with a PRN agency can help you save on recruitment and onboarding costs. You don't have to invest in advertising, screening, or training new staff members. The agency takes care of these aspects, saving you time and money.
Reduced Administrative Burden: PRN agencies handle all the administrative tasks associated with staffing, including payroll, taxes, benefits, and workers' compensation. This allows you to focus on providing quality patient care and managing your facility effectively.
Reliable Coverage: With PRN staffing, you can ensure that your facility has sufficient staff to maintain optimal patient care even during peak demand periods, holidays, or unforeseen absences.
Quality Assurance: Reputable PRN agencies have rigorous screening processes to ensure that the healthcare professionals they provide are highly skilled, qualified, and experienced. This helps maintain the quality and standard of care in your facility.
Per diem staffing offers a reliable and flexible solution for healthcare facilities facing staffing challenges. By partnering with a reputable PRN staffing agency like Cascade Health Services, hospitals and other healthcare facilities can ensure adequate staffing levels, exceptional patient care, and reduced stress among their own staff. Don't let unexpected absences or fluctuations in demand disrupt your operations and compromise the quality of care you provide.
With a per diem staffing nurse staffing agency, you gain access to a vast network of qualified healthcare professionals who can seamlessly fill staffing gaps when they arise. The convenience of making a single call or sending an email to a staffing manager saves you time and effort, allowing you to focus on other critical aspects of running your facility.
Moreover, partnering with a PRN agency brings numerous benefits, including immediate access to qualified staff, scalability to meet changing staffing needs, cost-effectiveness, reduced administrative burden, reliable coverage during peak demand, and assurance of quality care through rigorous screening processes.
Cascade Health Services, with its decades of experience, Joint Commission Certification, and dedicated staffing managers stands out as a reputable and trusted PRN staffing agency. Cascade's commitment to employing W4 employees and handling taxes, workers' compensation, and liability insurance ensures a seamless and compliant staffing process for your facility.
Next time you find yourself facing a staffing crisis, picture a different scenario – one where you have a trusted PRN staffing agency like Cascade Health Services by your side, ready to provide the staff you need to maintain exceptional patient care and alleviate the burden on your own staff.
Contact Cascade Health Services today and discover how their PRN services can support your healthcare staffing needs. With their expertise and comprehensive solutions, you can overcome staffing challenges with confidence and focus on delivering the highest standard of care to your patients and communities.